Our Partnerships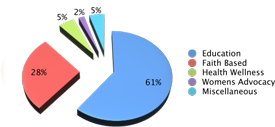 Contributions to our partners are categorized as shown in the pie chart: 61% of monetary gifts go to help organizations with Education as their primary focus. This is followed by Faith Based organizations which is at 28% of our donations. Health and Wellness as well as miscellaneous expenses account for 5% while 2% of the funds are used to help Women's Advocay organizations. In 2011 we helped a total of 38 organizations. Our Top Receipients are as follows:
Uplift Education
The mission of Uplift Education is to create and sustain public schools of excellence that empower students to reach their highest potential and inspire a lifelong love of learning, achievement, service and responsible citizenship. Read More

St. Thomas Aquinas School Scholarship
Scholarships for Faith Based Education
Read More
Texas Tech Scholarship Program
Scholarships for Engineering Students
Notre Dame School of Dallas
Scholarship Aid
AIDS Services of Dallas
Assisted Living Program
St. Vincent de Paul
Supporting Families in Need
Other notable recipients include:
Kid Links
which helps directly improve the emotional and physical needs of children in Texas who are critically ill, physically handicapped or have developmental delays. The
YWCA
which is a Ft. Worth based organization who helps to empower women and promote peace, justice, freedom and dignity for all. The
Dallas Zoological Society
for their supports wildlife conservation and research as well as adult and children educational programs and
Winners for Life
which Donnie Anderson, a Texas Tech Alumni began this organization to help "at risk" and underprivileged teenagers set and achieve life goals through higher education. For more information, please visit our
Links and Information
page.
Board Members
Robert R. Matejek
Chairman
Dallas Texas
Texas Tech
Sandra A. Matejek
Dallas Texas
Texas Tech & University of Texas - Permian Basin
Brenda M. Smart
Colleyville Texas
Texas Tech
Joe J. Matejek
Midland Texas
Texas State Technical Institute